Value of Mango to South Asia
Mango is one of most important fruit crops in Sri Lanka, India, and other surrounding nations. Since ages, mango tree has been described as Kalpavriksha (wish granting tree). It is known as the king of fruits and is the choicest fruit in India and abroad. Its long period of domestication in India is well evidenced from its mention in ancient scriptures. Mango is a part and parcel of cultural heritage of India. Today the mango tree and its fruit remain important Indian religious and cultural symbols. The mango is intimately associated with the history of agriculture and civilization in India. Ayurvedic and some ancient texts recognize ripe mango as aphrodisiac and enhancer of vitality and stamina. Since the Ancient time it has a great cultural, socio-economic and religious significance in India.
Infographic on Mangoes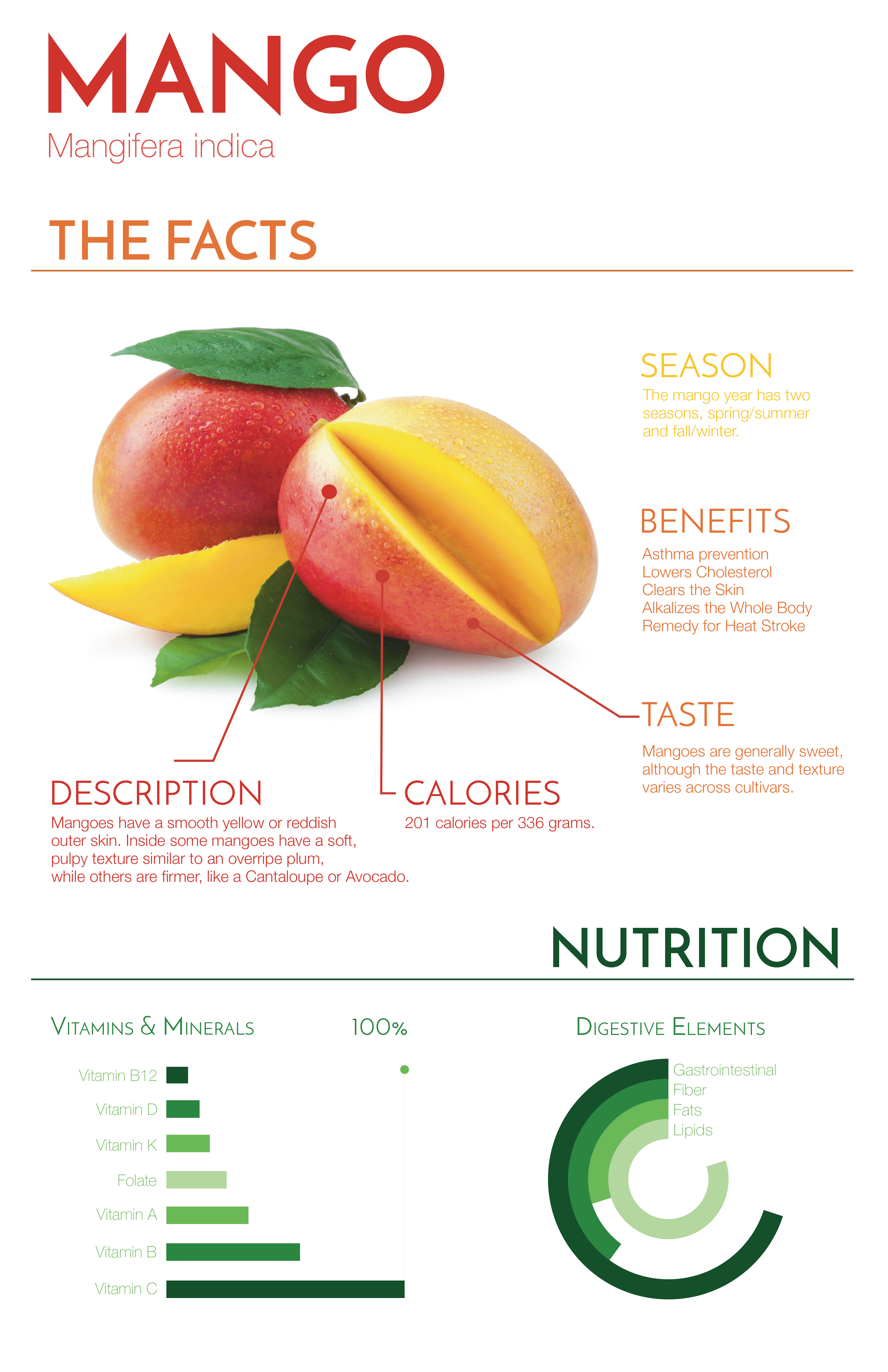 History and Story of Origin
of the Mango
Its prominence in Hindu mythology and religious observance leaves no doubt about its antiquity. The cultivation of mango in India is as old as 4,000 years reported by de Candolle (1883) on the basis of writings by subsequent botanists to 6000 years (Hill, 1952). In Ramayana (by Valmiki), mango fruit and trees are described at many places. Economic importance of mango in ancient times is suggested by one of the Sanskrit names, am, as an alternative meaning of provisions of victuals. There are frequent discoveries of mango in archaeology- the most outstanding being the one in sculpture on the Stupa of Bharhut dating back to ~110 BC.
Mango Cultivation in the Pearl of the Indian Ocean
Though it is not endemic to Sri Lanka, it is seen growing in many parts of the country. It is very rare to find a home garden without a mango tree in our country except in certain upcountry areas. Present extent under mango in Sri Lanka is about 27,500 Ac. Predominately, it is grown in Kurunegala, Anuradhapura, Hambanthota, Puttalam, Moneragala, Jaffna districts and in Mahaweli Systems H & C. As a fresh fruit, mango has a high demand in local markets. Likewise, a considerable amount of foreign exchange could be earned by exporting both fresh and processed mango products.
Nutrients and Constituents of Mango
| | |
| --- | --- |
| Water | 81.0 g |
| Energy | 74 k cal |
| Protein | 0.6 g |
| Lipids | 0.4 g |
| Carbohydrates | 16.9 g |
| Calcium | 14 mg |
| Phosphorus | 16 mg |
| Iron | 1.3 mg |
| Carotene | 2743 micro g |
| Thiamin | 80 micro g |
| Riboflavin | 90 micro g |
| Niacin | 0.9 mg |
| Vitamin C | 16 mg |
Health Benefits of Dehydrated Mango
The fruit king, mango (Mangifera indica L.) is a member of the drupe family with high nutritional value and health benefits. The impressive nutrient profile with low calories and high vitamin, carbohydrate, fiber, amino acids, polyphenols, antioxidant compounds along with ~78.9 to 82.8% moisture content have shown the value of dietary intake of mangoes. Drying mangoes is an ideal value-added opportunity to enhance the shelf life and increase the demand of consumers. Mango is packed with over a dozen of different types of antioxidants, including mangiferin, catechins, anthocyanins, quercetin, kaempferol, rhamnetin, benzoic acid than many other fruits.
The 'super antioxidant', mangiferin which is unique for mangohas directly involved in the reduction of oxidative stress and promising its anticancer effect on leukemia, colon, lung, prostate, and breast cancers. Mangoes rich with antioxidants; lutein and zeaxanthin are acting as a natural sunblock inside the retina and protect the eye from harmful sun rays. The dietary intake of mango provides antioxidant vitamins A, C, and E.
These vitamins help boost immunity, support eye health, improve the hair and skin health and lower the risk of certain cancers. Quick-drying has resulted in high retention of ascorbic acids. Mango has several qualities that make it excellent for digestive health. Dietary fibers especially starch and pectin (~2.1%) and essential minerals including, potassium and manganese and digestive enzymes; amylases have involved in this digestive process as well as decrease the risk of heart problems and blood pressure.
Dehydrated mango fruits which are higher in fiber and carbohydrate contents make them healthy and energy food. Dehydrated mangoes is an ideal value-added opportunity to enhance the shelf life and increase the demand of consumers.